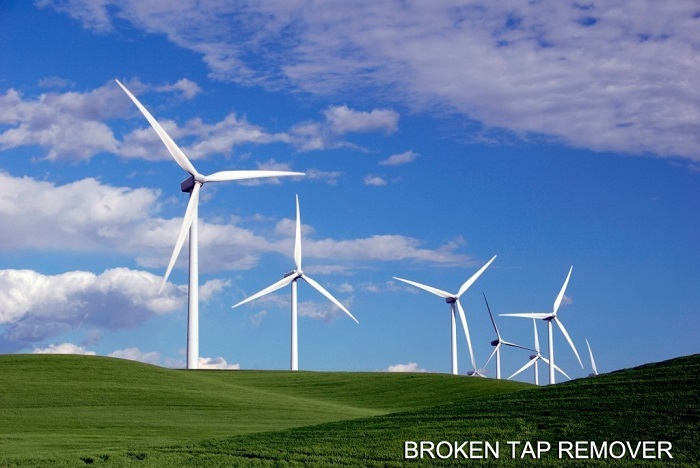 Ten Years of Accumulation, Opportunities Knock the Door
Setting: an office, mid-morning
RRRRRRRRRING!
The sales department of Luoyang Xincheng Precision Machinery Co.,Ltd received an extraordinary call at 25th, June, 2015. Customer: "Hi, There are several M42×275mm big bolts broken on the Wind Power Generation Equipment , could you help remove them?"Sales: Hello, Thanks for your calling, Please tell us in details. The case is special, after consulting the technical division, we will call back to you.
Luoyang Xincheng Precision Machinery Co.,Ltd (hereinafter referred to as Luoyang Xincheng) , established in 2004, dedicated to provide the best products and service to customers within 10 years. Patented portable EDM machine is the ultimate solution to solving broken tools,This machine can fast and easily remove broken taps, reamers, drills, screws by spark erosion, thus no external force and damage to the work-piece; it also can mark and process holes on conductive metals that can't be drilled by conventional means. Portable EDM machine occupied more than 70% market share in the domestic market now, and has gained a great success both at home and abroad.
Owning to effort and endeavour to perfect products and the spirit of striving for perfection to serve an industry , Luoyang Xincheng has gained the renowned reputation in the industry, This call Knocks the door to an big opportunity to challenge Luoyang Xincheng, but not occurred by accident, opened a new chapter of Technical Master Liu and Luoyang Xincheng.
The customer who called us is China Energy Construction Group Co., Ltd at Kunming, Yunnan . The problems is four hex bolt with tightening torque broken in holes on a flange with two meters diameter in the wind power plant. They have shelved the problems more than three months, still cannot remove them for now, causing huge losses and waste. Hearing there were professional company aims to remove broken bolts, they were more than pleased to contact Luoyang Xincheng immediately.
Experimental research, steady progress.
Opportunities always favor those who are prepared, Luoyang Xincheng's Technical team does not fight the battle without preparation. According to the photos returned on site and bolt sample sent , an initial solution was quickly made by Master Liu and other technical in the team together. Based on the bolt's model,hardness, fracture etc.The team first made a simulation experiment.
Experiment process is rough, for the bolts broken in the holes, cannot be solved for more than 3 months, it is hard to remove. The bolt hardness is 10.9 itself, bolts tightening is made by hydraulic wrench with the 4600N · m torque, once broken, it is very difficult to remove out. However, many sets of technical solutions has been designed by Master Liu and Team members before, They are familiar with the tools used, threads protection, how to find the processing point of busted bolts .They made simulation experiment, refix the plan again, and made special tools for the task. This time, Confronted with the new changeling, Master Liu prepared a set of mysterious tools to aid in this task.
Long-distance Battle, South of Sunny Cloud
17th, July, Master Liu arrived Kunming, Yunan, with the tailor-made tools. Climbed on the 85m tower, reached the nacelle turbines, Master Liu saw the legendary four broken bolts , on the two meters diameter large flange, evenly distributed 60 pieces of M42 × 275mm big bolts , four of which is broken.
In the Cabin, Master Liu took out the mysterious weapon –200W pixel high-definition snake tube probe! Using this probe, he carefully reviewed the fracture situation of the broken bolts, analyzes and removed the first bolt based on the simulation experiment.
After installing the professional equipment, Master Liu stayed at the cabin all day, despite the hard environment. Confronted with the paralyzed power generation equipment for more than three months, He worried about only one thing–The power plant worth's nearly 20 million, quickly fix it will save money for customer and the country. Then, Master Liu stayed at site, forget all things even about eating and sleeping, indulged in removing the broken taps.   
However, the real situation at site is worse than he predicted, when removing the fourth bolt, Master Liu suddenly found the bolt is severely deformed, because the China Energy Construction Group Co., Ltd has drilled by themselves before and they drilled not centered on the core. In this case, the tools Master Liu brought is not enough.
Faced with new arising problems, Master Liu spared no efforts to solve it. He found a piece of wood quickly, a good idea occurs, Use the wood to make a modification of the original tools.
Four stubborn 10.9 hardiness large bolts were removed off eventually! And there is no damage to the original thread! All cheers at site when the problems is solved, the power plant can start to work now.
Every time when Master Liu saw the achievements, proud arises spontaneously, blended with an indescribable feeling in his heart. Now the feeling grasps him again. At the moment, he suddenly understood that this feeling's name is satisfaction, satisfaction for helping solving the problems for customer.
Hearing the good news, All members of China Energy Construction Group Co., Ltd cheers, the relevant leaders repeatedly thank Liu master for his solving this big problem in a short time, saves a significant equipment, avoiding more losses for them.China Energy Construction Group Co., Ltd also edits 3 reports, 3000 words, showing respect for Master Liu and Luoyang Xincheng!
Soon after, The wind power restarts operate. A beautiful picture springs to our mind, On uplift hill, rows huge "windmill" with their beautiful three rotating blades, doing their hard work and selfless dedication at each quiet morning, evening, and night!
---
Post time: 04-07-2018