Selection of electrode size and usage of special electrode
The discharge area of the electrode is generally about 0.3 larger than its own diameter. For example, if the electrode diameter is 3mm, the processed hole diameter is about 3.3mm. When selecting the electrode, please consider the electrode discharge area, and choose the suitable size to avoid any damage to the thread.

Please refer to the below table for electrode size selection when taking broken tools.
Broken Tool

Size

Electrode Size

Note

Tap

M3

Φ1.5

Keep the electrode as short as possible,

reduce jitter

Tap

M4

Φ2.0

Tap

M6

Φ3.0

Tap

M8

Φ4.0

Tap

M10

Φ5.0

Tap

M12

Φ6.0

Tap

M14

7×2

Sheet electrode

Tap

M16

8×2

Tap

M20~30

10×2

Sheet electrode

Taps above M20 can be processed in stages
Electrode size selection table
If you want to punch holes (Ø1-Ø3), you can use hollow electrodes, as the picture shows:

When the hollow electrode is used, the working fluid can enter from the inside and the iron filings are directly flushed away, which avoids the difficulty of external water flow entering and accelerates the drilling efficiency.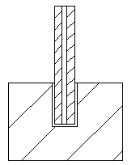 Hollow Electrode
When processing deep groove or deep hole, high-efficiency perforating electrodes can be selected, as shown in the figure: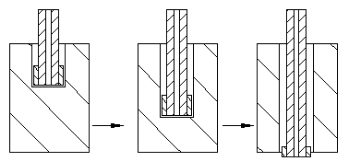 High-efficiency Perforating Electrodes
The electrode is hollow with a large head diameter. The internal water inflow can well discharge the iron filings and avoid the clogging of debris; the diameter of the head is larger than the electrode body which increases the gap between the electrode and the workpiece, reduces the side discharge loss, and also increases the drainage speed.

In addition, electrodes with different cross-sections can be used to process holes of different shapes.
---
Post time: 11-30-2019